Websites | Design & Development
The digital world is there, palpable, at your fingertips.
There are several CMS currently in use as well as WordPress, Prestashoop, Drupal, Typo3… A CMS allows you to meet the basic needs of a corporate website or an online store with fairly affordable development costs. Since the different CMS are based on already defined structures that take on a large part of the web functionalities, the right selection of the CMS is a decision that can save a lot of work, money and time in the future.
But a CMS can also pose a number of risks if it is not managed professionally. There are a variety of free plugins that can be a vulnerability if we do not have sufficient knowledge to manage it like a holistic system. In these cases, it is best to have web maintenance with a specialized development company that takes care of these tasks and avoids these types of problems.
Tailored solutions to your problems, such as scalability or access to the different parts of the applications running on your web through personalized and customized code.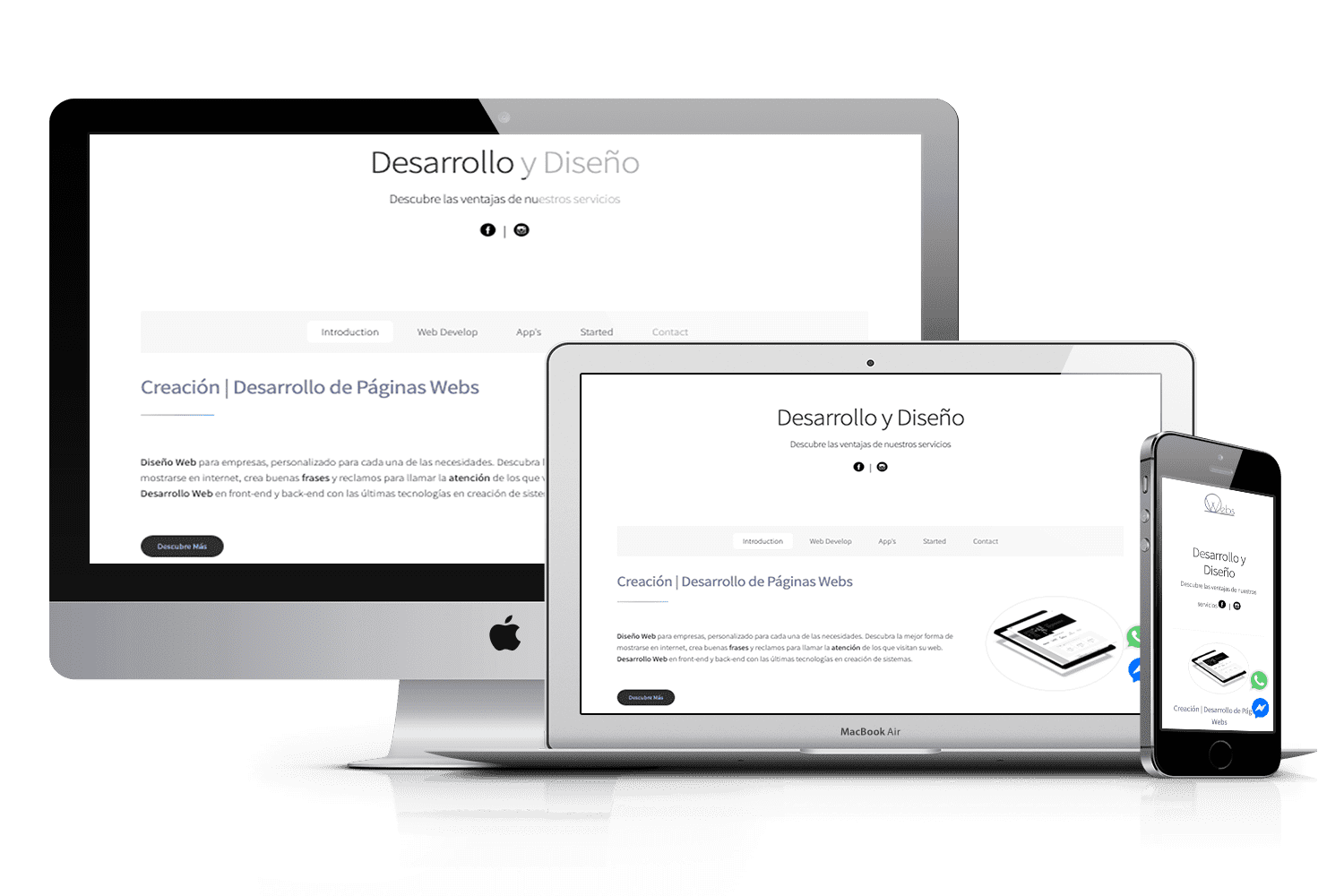 We design your ideas.
In case of doubt where to start.
Your nephew always has a good excuse not to work on your website.
Put serious matters in the hands of professionals.
Request a quote now.
WE GOT ALL SOLUTIONS
VIRTUAL BUSINESS CARDS
Monthly Payment
From
10 €
VAT excl.
Online presence
Contact information
Your social networks
Fast and easy
WEB MAINTENANCE
Price per hour
From
50 €
VAT excl.
Updates
Customization emails
Migration
Optimizations
WEB DESIGN
Depending on requirements
From
1100 €
VAT excl.
Code Development
Exclusive design
WordPress
Total functionality
E-COMMERCE
Depending on requirements
From
1500 €
VAT excl.
Online Shop.
Booking System
Exklusiv Design
Payment Gateway
APPs
Depending on requirements
From
2800 €
VAT excl.
Mobile App
Functional development
Android
iOS
Discover All About Web Development
Creating a mobile app allows your brand to connect with your users on professional level. Technology has opened the doors to new opportunities. Now you can boost your Business, Company or Trade 24/7. WebsParadise has the best web developers to boost your business through web pages , E-Commerce or Mobile Applications for iOS and Android. Appearing in Google Play or App Store gives …
Continue reading "Create your Mobile App for Android and iOS"
Creating an online store is a solution for those who have business or want to start. Thus they expand their products in the online market and start to have their own E-Commerce Platform. Creating an online store at a good price is possible. You only need the connoisseurs on the subject, that is, the web programmers. In WebsParadise we …
Continue reading "Professional Online Store to grow your Business"
There are many reasons why you should create a web page or an E-commerce . If you are in digital marketing, you know the importance of having your own Professional Website. Today we will show you the advantages of having a website for this fascinating world of Advertising, E-Commerce and Online Presence 24/7. Therefore, we would like to cast some light on the advantages …